Just a Side Dish — Throwing in some veggies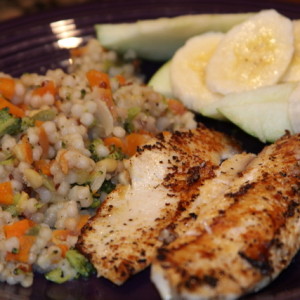 I am always looking for something easy side dish to so when I saw this blend of grains at Trader Joe's I knew I would enjoy it and no one else in my family would not. But sometimes Mama needs something new even if she will be the only one to enjoy it.
This is a blend of couscous, orzo, garbanzo beans, and red quinoa. But you could use the same idea with any quinoa or couscous or rice blend.
This is a good and light dish. Here it is served with sauteed fish green beans and fresh apples and bananas.
Prep Time : 5 minutes
Cook Time : 15 minutes
Instructions
Put chicken broth and butter in a pan until it begins to boil and add everything else in.
Cook for the how ever long the package says.
Stir every few minutes and if it gets too dry add more broth or water.
Print



---