Mac and Cheese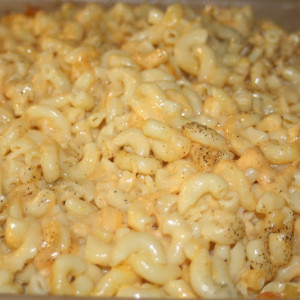 I have always LOVED my moms macaroni and cheese and it is easy to make, though more time consuming than the boxed alternative!
Prep Time : 15 minutes
Cook Time : 60 minutes
Ingredients
Instructions
I start by boiling the macaroni noodles. I then put some little pieces of butter in the bottom of the backing dish and top with a layer of macaroni noodles.
On top of the noodles I add a little more butter, cheese slices and some salt and pepper.
This particular day I tried several different cheese flavors but I think I like regular american cheese slices the best!
You continue to repeat the layer of butter, cheese and salt and pepper.
For the top I put some butter and cheese. I then pour some milk over the macaroni. This all runs to the bottom so be sure not to add too much. I add a little and as it bakes stir it occasionally and if it seems like it needs more milk add it them.
I bake the mac and cheese at 350 until it is all warmed and all the cheese is melted!
Print



---