Apple Crisp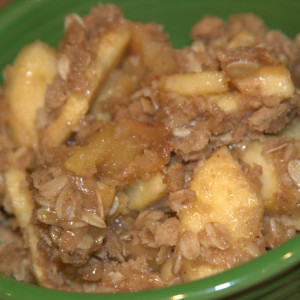 This is a great fall recipe, when apples are in season. It is good for dessert or breakfast. This recipe makes a big batch so it is GREAT for company or taking somewhere. I often spilt the recipe into two pans and take half to a neighbor or friend.
Prep Time : 15 minutes
Cook Time : 30 minutes
Instructions
Preheat oven to 350 degrees F (175 degrees C).
In a large bowl, combine the flour, oatmeal, cinnamon, nutmeg and brown sugar. Cut butter into mixture until crumbly.
Take half of the mixture and pat it into the bottom of a 9x13 inch baking dish.
Cover crumb mixture with apple slices, then sprinkle apple slices with remaining crumb mixture. Bake at 350 degrees F (175 degrees C) for 45 to 50 minutes or until apples are tender.
Print



---