Panko and Blue Cheese Asparagus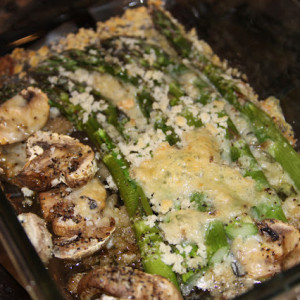 Since I LOVE asparagus and I have had lots this spring from my father I keep throwing it together a little differently every day it seems. I made this for the bulk of my dinner the other night but this would serve 2 normally or use a whole pound of asparagus it would serve 4.
Prep Time : 10 minutes
Cook Time : 20 minutes
Instructions
In a baking dish place the asparagus, and sliced mushrooms. Then spread the panko crumbs over the asparagus then crumble  the butter and cheese over everything else. Then drizzle a little Olive oil and seasoning to your liking.
Bake at 350 degrees for 15-20 mins.
While these are not the best pictures it tasted so good. I love the taste of the blue cheese and little crunch of the bread crumbs.
Print



---