Simple Cedar Plank Grilled Salmon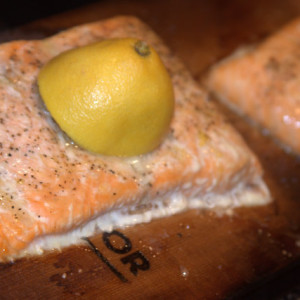 I really enjoy the smoky flavor of grilled salmon but it can be tricky if you just stick it on the grill. I LOVE grilling salmon on cedar planks, you can get them right in your grocery store, at my store they are with the plastic bags.
Prep Time : 10 minutes
Cook Time : 20 minutes
Ingredients
Instructions
Just place your salmon on the plank drizzle a little olive oil, and house seasoning (pepper, salt, & garlic) and I top with a half of lemon to help keep it good and moist and tender.
Once everything is ready  just place your plank on the grill, and close the cover of the grill for about 20 minutes. Mine takes a bit longer usually since I grill lots of other things at the same time that need to be turned and checked on. And you can use the planks more than once. The One in the picture had been used twice before.
Print



---