Roasted Pumpkin Seeds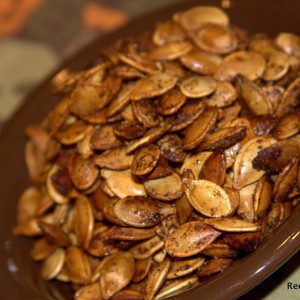 This post will be too late for this year if you only had a pumpkin that you craved. But I had lots of pumpkins for decoration on my front steps so this weekend we brought most of them in to save seeds for next year's crop and to cook, puree, and freeze the pumpkin itself, and the leftover seeds were roasted for a yummy snack. We all LOVE roasted seeds.
Prep Time : 15 minutes
Cook Time : 30 minutes
Ingredients
Instructions
Once you have you seeds out of the pumpkin wash until all the "slimy" layer is washed off and there is none of the pumpkin flesh stuck to them. Then I spread them on a cookie sheet drizzle some olive oil over and then add as much or little seasoning as you like. We like a LOTS... So, I add house seasoning (salt, pepper, and garlic), paprika, and a little extra salt since my house seasoning is light on salt.
Then shake or stir until all the seeds are coated with the oil and seasoning then before putting them in a oven at 350 degrees make sure they are in a single layer on the cookies sheet and roast for about 30 minutes. I stir mine once half way through.  ENJOY!
Print



---