Garlic & Rosemary Leg of Lamb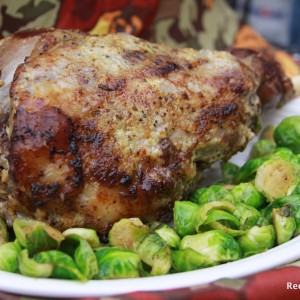 I have said it before that I am not a big lamb fan but since I get free lamb from my father so I try to cook it and enjoy. My son REALLY likes lamb so sometimes I just fix it for him when we have pork or beef.
Prep Time : 20 minutes
Cook Time : 2h 30 min
Instructions
Place all the ingredients for the paste in a food processor and blend until a thin paste is formed.
Then coat the leg of lamb with the paste.
Then I place the coated leg of lamb in my turkey roasting pan on a rack. Add the wine and water to  the bottom of the pan and cover it all with foil.
Cook covered at 300 degrees for 2 hours, then increase the temperature to 350 degrees for another 20-30 minutes,  until the internal temperature is 150 degrees. Then Uncover  and broil until the crust becomes brown.
Print



---