Hamburger Mac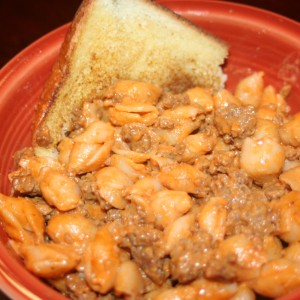 This is my (Amber) husband's favorite go to dish. Ann Kelly's husband hands down would want Hamburger Hash so the other night when I made this my husband said this is my "hamburger hash"! It was just funny that he knows that it is her hubbys fav. My mother in law had three boys really close in age and this was a quick, easy and cheap way to feed them!
Prep Time : 10 minutes
Cook Time : 15 minutes
Instructions
Brown the hamburger. While the hamburger is browning boil the noodles.
Then add the tomato sauce to the hamburger, mix and warm.  Mix this with the noodles in a baking dish and squeeze the cheese in, add some onion powder and mix well. Bake at 350 for about 10-15 minutes.
Print



---