Chicken Quesadillas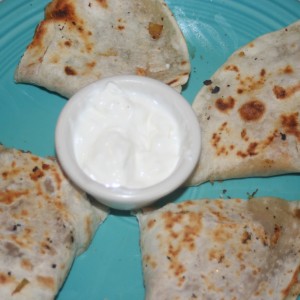 A few weeks ago I was craving quesadillas like you have at a restaurant so these are what I came up with. They were AMAZING!! I mean to the point we have eaten them four times in three weeks!!!
The amounts listed above made about 3-4 quesadillas. The third time I made them I used a whole red pepper and green pepper and 2 chicken breasts. This made enough for three one night and we had left over ingredients and made three for lunch the next day. It really depends on how much you put in each one.
Ingredients
Instructions
First cook the chicken in a skillet with a little olive oil. I sprinkled some house seasoning on the chicken while it was cooking. Once you can cut them up into bite size pieces. In another skillet I sauteed the diced onion, green pepper and red pepper in some olive oil. I did sprinkle a little pepper on them.
Once chicken and vegetables are done then warm/cook your tortillas. I use a package we get a Costco that are uncooked so I cook them. Put about 2tsp up to a tablespoon of salsa on half of the tortilla. Put some of the veggies and chicken on top of the salsa and then some cheese. Fold the tortilla over and cook until the cheese is melted.
Print



---