Slow Cooker Taco Meat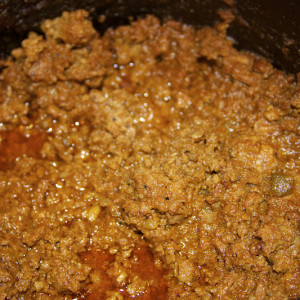 So the other day I had NOTHING planned for dinner and I was going to be home for about 2 hours before my son's ball games and I had a LONG LIST of things that had to be done. I knew we needed something EASY and FAST since it would be a late dinner. I had everything I needed for nacho/tacos but all my hamburger was frozen and I normally have Hamburger Browned and Froze for times like this but no luck this day. So I thought I would try to make some taco meat in the slow cooker, and it worked out great.
Prep Time : 15 minutes
Cook Time : 2h 00 min
Instructions
Put EVERYTHING into your slow cooker on HIGH for 2 hours stiring every 30 mins. After the 2 hours I put my on warm while we ran out to our ball game and I was able to have dinner on the table  in 10 mins after we got home.
I also pulled out some Slow Cooker Refried Beans out of the freezer to go with this meal.  Once this taco meat was cooled I also froze half of it to have for another day for a fast meal. Nachos are one of our favorites and it makes for a fast dish when I have beans and meat already cooked and frozen.
We would love for you to follow us on Facebook!
Special thanks to our fellow bloggers who linked up this post: Not Just a Housewife, The Winthrop Chronicles, Giggles Glitz and Glam, Whats Cooking Love
Print



---