My son has been Gluten Free for almost 4 years and Gluten Free baking has scared me. I just bought a mix if I need brownies or a cake but recently he has been wanting sandwiches and bread daily and at $6 a loaf (a small loaf at that) it adds up quick so I finally ordered all the flours, starches, and gums needed to actually bake Gluten Free from scratch. This was our first real attempt at a loaf of bread and it was a success.
FINALLY!!! Gluten Free Bread (Loaf)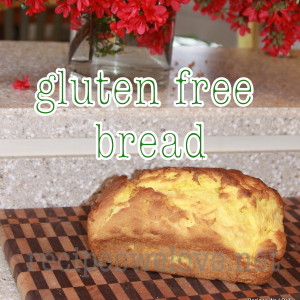 This bread is light for a gluten free bread and cooked all the way through, which I have had issues with before when cooking Gluten Free, and it sliced up nicely. I have part of the loaf in the freezer and it it holds up well, we will be making several loafs to have in the freezer.  You can find the recipe HERE.
Prep Time : 15 minutes
Cook Time : 30 minutes
Yield :

4
Ingredients
Instructions
Makes one 9x5-inch loaf or two 6-inch round boules.
I ordered all my flours, starches, and gums from Vitacost  you may find them cheaper if you shop around but I could get them all from Vitacost without leaving my house.
NOTE: I used free range farm eggs so the bread has a little bit of a yellow color, if you use regular store bought eggs it will be whit
Print



---