Freezer Pizza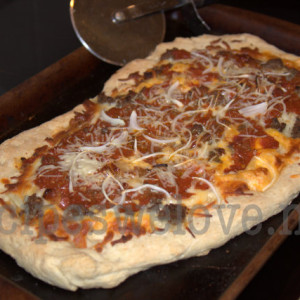 Prep Time : 30 minutes
Cook Time : 2h 00 min
Instructions
Pizza Dough Instructions:
For AUTOMATIC BREAD MACHINE, place ingredients in container in following order: water, olive oil, flour, sugar, salt and yeast. Select Dough setting and press Start.
For FOOD PROCESSOR, dissolve yeast and sugar in warm water in a measuring cup; let stand until bubbly--about 10 minutes. Stir in olive oil and salt. Insert metal blade or plastic dough blade. Place flour in work bowl. With motor running, pour yeast mixture through the feed tube in a steady stream, as fast as the flour absorbs it. When the dough forms a ball, stop the machine. Process continuously for 45 seconds to knead. Shape the dough in a ball, and place in greased bowl; turn to grease top. Let rise in a warm place until doubled--about 1 to 1 1/2 hours.
Pizza Instructions:
To assemble: prepare Pizza Crust as directed.
Spray pizza pan with non-stick cooking spray or brush with olive oil. Gently stretch Pizza Crust to fit pan, forming raised edge at lip. Sprinkle crust with grated mozzarella cheese.
Dot with browned sausage, ground beef, pepperoni and chopped and sauteed onion. Gently spread Marinara Sauce to cover cheese and toppings (This is the secret to a crisp crust - sauce on the top!): flash freeze pizza in pan. When frozen, wrap in aluminum foil.
We used hamburger, sausage, and bacon and different types of cheese that we were already using for a freezer cooking day.

To prepare: do not thaw pizza. Heat oven to 400 degrees. Bake frozen pizza for 20 to 25 minutes, until crust is browned, sauce bubbles and cheese is fully melted.

When I pulled my pizza out of the freezer I added a little cheese and onions before baking.
Print



---