Hamburger Casserole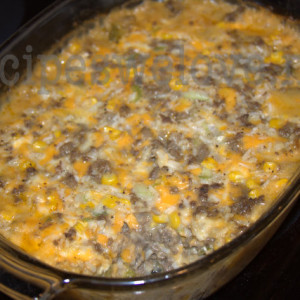 This recipe came from my friend Katie... She told me the recipe one night and I tried to remember till I got home and my husband LOVED it and I have made it for him several times. It is not my favorite but It is super easy and like I said He LOVES it which is not an easy feat. He comes home most days for lunch so it make a good lunch for him for a couple of days or a good dish for when I go out of town for a day or two to leave at home for him.
Prep Time : 15 minutes
Cook Time : 40 minutes
Instructions
So take a pound of hamburger (remember I brown several pounds at once and freezer in bags so this really cuts down on the cooking time for this meal).
Brown the Burger and add the veggies for a few mins. just till they soften a bit.
Mix with a cup or so of shredded cheddar, 2 cans of cream soup (I like on cream of celery, and one cream of chicken) salt, pepper, and garlic, and 1 cup of dry minute rice.

Mix all together once burger mix is ready add to the rice mixture and pour in a baking dish and bake at 350 for about 40 minutes EASY and GOOD.
Print



---