Yellow Rice, Black Beans & Chicken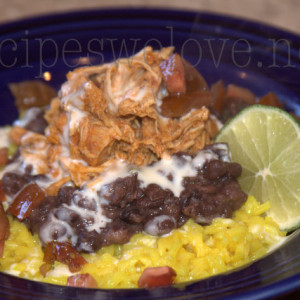 We really like this dish and I can cook the chicken the night before and cook enough for two meals to add to the rice and beans the next night.
Prep Time : 10 minutes
Cook Time : 15 minutes
Instructions
I cook the chicken on the stove with a little olive oil and cover with Cajun seasoning. I get chicken tenders and beginning cooking while they are still frozen, as they thaw you get a little water and don't have to use much oil. Can serve over rice and beans as whole chicken tenders or dice.
Put black beans, onions with salt, pepper, and garlic while rice and chicken cook.
To serve make a bed of rice then beans and chicken on top.
In the picture, the one with whole tenders is my husband's and he likes chips and salsa with his and I like my chicken diced on top with other veggies.
Print



---