Crab Crusted Tilapia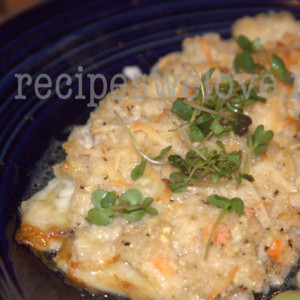 This is a really simple dish that seems much more exciting.  I threw this together one night when I was trying to use what I had on hand and LOVED it and it is actually on the menu for this week. I just used the topping on 2 large fillets of Tilapia but it would be enough for 3, my son just would not eat it with the crab on top.
Prep Time : 10 minutes
Cook Time : 30 minutes
Instructions
Melt the butter and add the crab, garlic, and house seasoning, and mix well, Then add the mixture  over the top of the tilapia then add a little shredded Parmesan cheese on top. Bake at 350 degrees  for about 25-30 minutes.  I also topped with a few micro greens.
Print



---