Garlic & Basil Pasta Sauce — Home Canning or Freezer Friendly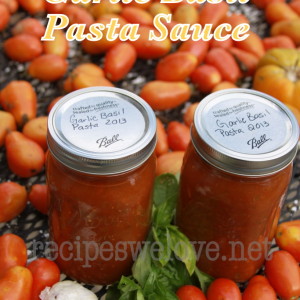 This recipe is for canning using a water bath but you could also make and freeze.
Prep Time : 30 minutes
Cook Time : 3h 00 min
Instructions
In a casserole dish place garlic bulbs with the top 1/4 inch of the bulb cut off then pour the oil over all the bulbs. Bake at 350 for about 45 minutes like this. The cloves will become soft and begin to pop out of the top a bit. Allow to cool until you can handle. Then remove the cloves from the skins.
While garlic is cooking prepare you tomatoes By peeling and squeeze extra juice out of them. Then put the tomatoes in batches in the food processor to chop and crush them. Then add the roasted garlic, peppers, onion, basil, and oregano in the food processor too.
Add all of these ingredients to a large stock pot then Add brown sugar, salt, vinegar, and black pepper to the tomato mixture. Bring to low boil and keep at a low boil for 45 minutes to an hour  stirring often. If you want to reduce further it is fine to cook longer.
Spoon 1 Tablespoon of bottled lemon juice into each of the hot sterilized pint jars or 2 Tablespoons per quart jar. Then ladle or pour hot sauce into jars with lemon juice leaving a ½" head space. Wipe jar rims, add lids. Process jars for 35 minutes in a water bath at a full boil or 45 minutes for quarts.
Print



---