Wonderful Spaghetti Squash Dish with Extra veggies.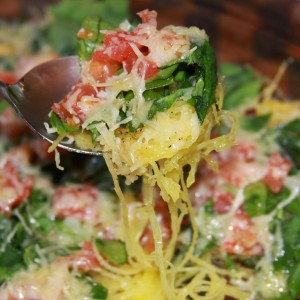 A friend made a dish similar to this and was telling me about it and since we have an abundance of spaghetti squash from the garden I thought I would give it a try and LOVED it.
Prep Time : 10 minutes
Cook Time : 15 minutes
Ingredients
Instructions
Cut the squash in half and bake like this until when you press on the the skin it begins to give. I cooked mine at 350 degrees for about 15 minutes. Then spoon it into a baking dish, drizzle with olive oil and add salt, pepper, garlic, and red pepper flakes to your family's liking.  Next add a layer of chopped spinach, then tomatoes, and top with a little Parmesan cheese. Put the whole thing back in the oven for until the cheese begins to melt and the spinach begins to wilt.
Print



---