Pizza Dough 2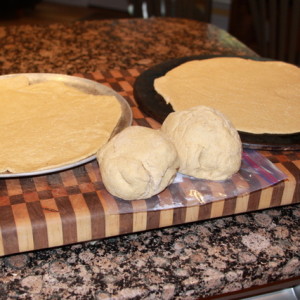 Pizza Dough (enough for 2 pizzas or 6 personal sized) this freezes really well. Just put in fridge the morning you want to make pizza and it is ready for dinner.
Prep Time : 10 minutes
Cook Time : 16 minutes
Instructions
In a large bowl, mix 1 1/4 cups flour with yeast and salt, add warm water and oil. Beat with a whisk for 3 mins. Stir in another 1 1/4 cups flour or enough so mixture holds together. Place dough on a lightly floured surface. Knead in rest of flour until lump- free. Freeze half and cover the remainder for 10 mins.
Heat oven to 425 degrees roll out dough and prick bottom of crust. Bake for about 8 mins then spread sauce and toppings and bake for another 8 mins or so.
Print




---