Pepper Jelly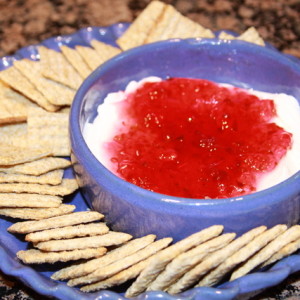 Instructions
Chop the peppers very finely, I use a food processor, then let the liquid drain off for a few minutes of the jelly may not set up well, and be runny.
In a large, stainless steel saucepan, combine green pepper, white vinegar, and white sugar. Bring to a boil, and cook for 6 minutes, stirring constantly.
Stir in liquid pectin. Skim off foam with a metal spoon, and remove pan from heat
Ladle jelly into sterilized jars (still hot) and top with HOT jar lids
You will need to seal the jars in boiling water, for 5 minutes.
I also add some red food coloring when I add the pectin you can leave green or add green coloring but I like red better. This year I have also been using beet juice to do the coloring for me. I use about 2 ice cubes of frozen beet juice.
If you have never canned food at home before check out THIS POST on some tips on getting started!
Print




---