Pumpkin Spice No Bake Cookies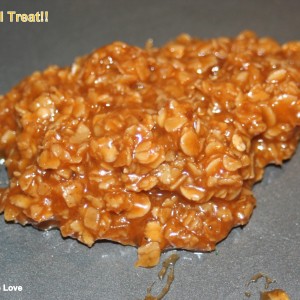 I was on Pinterest the other day and found a recipe for pumpkin no bakes from Once A Month Mom. No bakes are a fave of mine and I love pumpkin goodies during the fall. I was thrilled to find out that the recipe did not call for any nut butters (peanut butter, etc). I fixed them earlier this week and they were really good! My hubby who isn't a no bake fan even liked them!
Prep Time : 10 minutes
Cook Time : 15 minutes
Instructions
Put sugars, butter and milk in a saucepan and bring to a boil for 2 minutes.
Add pudding mix and mix well.
Add vanilla and pumpkin spice.
Slowly add oats, stirring constantly.
Spoon onto a buttered baking sheet so they can harden.
Print



---