Tortilla Desserts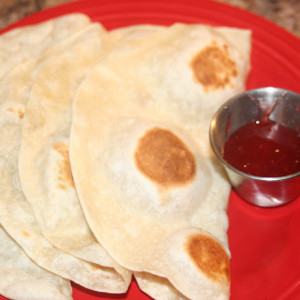 A while back when Ann Kelly came to visit she brought some of these uncooked tortillas that she bought at Costco to our house. They are incredibly fresh and so much better than the ones I have always bought! We had a sweet tooth after the kids went to bed so we decided to make some desserts!!
Prep Time : 5 minutes
Cook Time : 15 minutes
Instructions
All you do with these it put them in a warm skillet, you don't need oil or anything else for them.
We tried three different desserts using these and they were all good!
On the first one we put a little butter, a tiny bit of honey and some cinnamon and sugar!
On this one we put sunflower butter (would be great with peanut butter but we are nut free home because of my kiddos) and chocolate chips!!
For the third one we put some honey in the middle and then dipped it on to some strawberry jam.
These were all super easy and would make for quick desserts when you have a midnight craving or need to fix something in a pinch!
Print



---