Spicy Black Bean Soup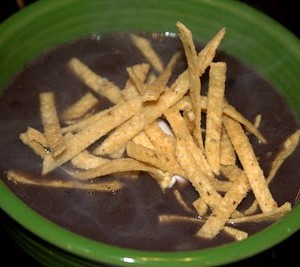 This soup was good, but would not have this as the main dish for a meal.  It is good, and I would serve with other Mexican type dishes but not as the main dish my son LOVED it.
Prep Time : 30 minutes
Cook Time : 1h 20 min
Instructions
Sauteed the onion, garlic, and peppers a few mins with the olive oil.
In a large saucepan add all ingredients, cover with water bring to a boil then reduce and simmer for 50 mins.
After cooking for 50-60 minutes add 2 cups chicken or vegetable broth ( i used chicken broth).
Cook about 20 mins. then puree 2 cups  at a time of soup in blender or using a submersion blender and return to soup.
I served with sour cream and tortilla strips but avocados and fresh onion would be great.
Print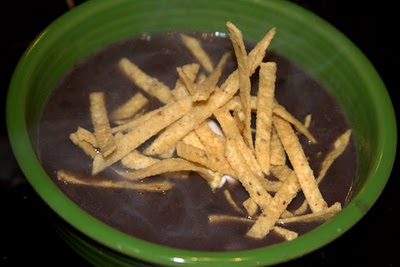 ---