Layered Salad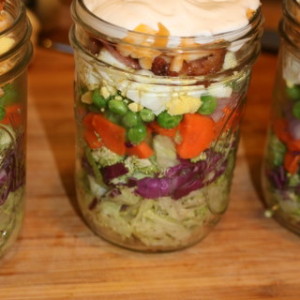 At our house a layer salad HAS to have:
Instructions
Dice all the veggies etc up to bite size pieces.
In a clear glass bowl, layer salad ingredients may sure not to add all the green stuff together or it won't be as pretty.
Cover the salad with mayo (or other thick dressing, we often use homemade blue cheese too) to seal it all in.
Putting this salad in jars makes it easy to take with you to work or to grab for a fast meal.
Print



---