Hot Brown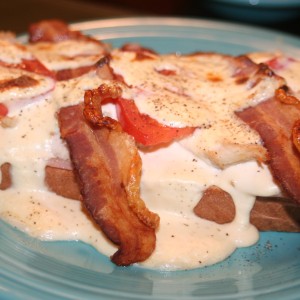 This year we did the sauce different. I know my husband didn't use an egg, used four different cheeses (gouda, parm, vermont cheddar and mozzarella), half and half instead of whipping cream and added some house seasoning. We also used roma tomatoes and Texas Toast which were great! He also put a few slices of warmed Kentucky Legend ham under the turkey.
Instructions
Melt butter and add flour, stirring with a whisk or spoon to make a thick roux. Add milk gradually and whisk to blend completely before adding more. As the sauce thins you can add milk more quickly. Bring to a boil.
Beat a little of the hot mixture with the egg. Remove sauce from heat and beat in the egg mixture. Add cheese and stir.
Fold in whipped cream. Season to taste.
For each Hot Brown, place 2 slices of toast on a flameproof dish. Cover with a liberal amount of turkey. Pour a generous amount of sauce over the turkey and toast. Sprinkle with additional Parmesan cheese. Place dish under broiler until sauce is speckled brown and bubbly.
Remove from broiler and top with 2 pieces of bacon. Garnish with tomato slices, if desired.
Print



---