Crock Pot Sandwich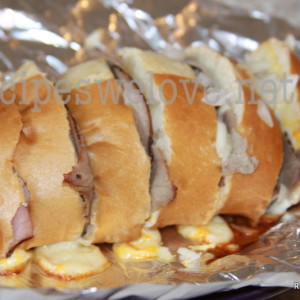 This is a great way to have a HOT lunch when you don't have time to cook a meal. I often have extras loaves of bread in the freezer and on the weekends I like fast and easy meal but my family is not crazy about cold sandwiches. This way everyone is happy and there is almost NO CLEAN UP.
Prep Time : 10 minutes
Cook Time : 60 minutes
Instructions
Line a large crock pot with foil, the slice your bread or used pre sliced bread, then I line up the loaf in the crock pot (you can make two rolls of sandwiches for a larger crowd). In between each slice add whatever lunch meats you have on hand or leftover chicken, turkey, steak etc. Also in between each slice add a piece of cheese. I also add sliced or diced onions.
If you need to eat in a few hours turn it on warm if you need to eat in an hour or so turn it up to high. Then put the top on and get back to your other projects.  When you are ready to eat just pull a hot sandwich out of the slow cooker and you are good to go. This is also good for parties when everyone won't be eating at the same time.
Print



---