Summery Green Bean Casserole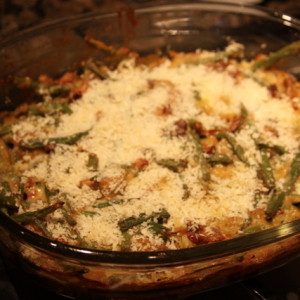 Prep Time : 15 minutes
Cook Time : 60 minutes
Instructions
Heat oven to 425 and spray 2 qt baking dish.
Bring large saucepan of water to boil, add beans and over till water returns to a boil. Cook, uncovered till tender crisp 5-6 min. Drain beans and add to an ice bath for 10 mins.
In large skillet, heat 2 tsp oil add onion, salt, and pepper add garlic for about 2 mins. Add flour and cook for 1 min. stirring constantly. Increase heat to high and whisk in milk. Bring to a simmer whisking frequently. Reduce heat to medium low and simmer till slightly think 4-6 min.
Reduce heat to low stir in salt, coriader, thyme, tomatoes, beans and mushrooms. Mix well. Transfer to baking dish cover with a layer of panko.
Bake until liquide is bubbling 15-20 mins let rest for 10 mins.
per 3/4 cup serving calories 166, fat 8 gr, carbs 23, sugar 8 g, protein 7.5g
Print



---