Shannon's Shredded Beef Chimichanga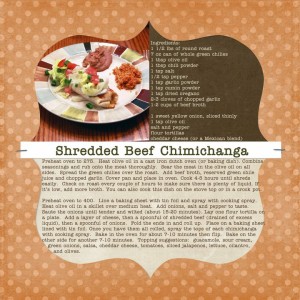 Instructions
Preheat oven to 275. Heat olive oil in a cast iron dutch oven (or baking dish).
Combine seasonings and rub onto the meat thoroughly. Sear the meat in the olive oil on all sides.
Spread the green chillies over the roast. Add beef broth, reserved green chile juice and chopped garlic.
Cover pan and place in oven. Cook 4-5 hours until shreds easily.
Check on roast every couple of hours to make sure there is plenty of liquid. If it's low, add more broth.
You can also cook this dish on the stove top or in a crock pot.
Preheat oven to 400. Line a baking sheet with tin foil and spray with cooking spray.
Heat olive oil in a skillet over medium heat. Add onions, salt and pepper to taste.
Saute the oinons until tender and wilted (about 15-20 minutes). Lay one flour tortilla on a plate.
Add a layer of cheese, then a spoonful of shredded beef (drained of excess liquid), then a spoonful of onions.
Fold the ends in and roll up. Place on a baking sheet lined with tin foil.
Once you have them all rolled, spray the tops of each chimichanga with cooking spray.
Bake in the oven for about 7-10 minutes then flip. Bake on the other side for another 7-10 minutes.
Topping suggestions: guacamole, sour cream, green onions, salsa, cheddar cheese, tomatoes, sliced jalapenos, lettuce, cilantro, and olives.
Print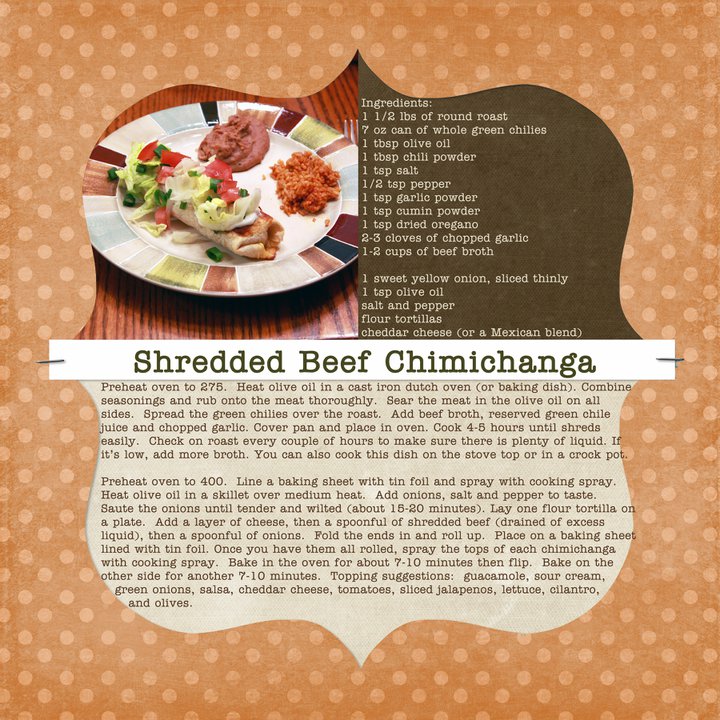 ---