Baked Fish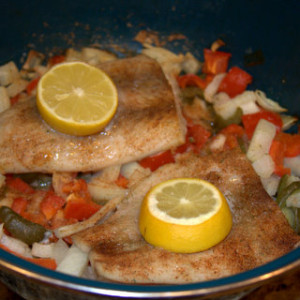 Super easy and Fast.
Prep Time : 10 minutes
Cook Time : 25 minutes
Ingredients
Instructions
Dice up an onion, and a couple bell peppers.
Put in a baking dish put the fish on top (this is mahi mahi) cover with Cajun seasoning and a little garlic salt.
Then a thin slice of butter with a lemon slice on top.
Bake at 350 till fish is done. This took about 25 mins.
I serve on rice.
Print



---