My Mom's Lasagna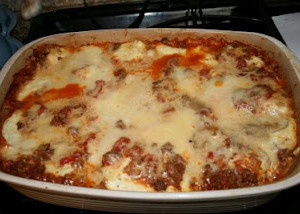 Today I used about 3/4 hamburger, 1 lb sausage, fresh tomatoes instead of canned and my spaghetti sauce (the batch that was very thin) and half a can of tomato paste.
Prep Time : 15 minutes
Cook Time : 1h 45 min
Instructions
Cook and stir ground beef, pork, onion, garlic in heavy saucepan until meat is brown. Drain off fat. Add tomatoes and break up with fork stir in tomatoes sauce, 1 ½ T parsley sugar, 1 t salt, and basil. Simmer uncovered 1 hour until mixture is think.
Heat oven to 350 degrees.
Mix ricotta cheese, 1 cup Parmesan cheese, 1T parsley, 1t salt, and oregano. In 13x9 dish, layer half each. Drained noodles, sauce, mozzarella cheese, ricotta mixture, repeat, saving enough sauce for a thin top layer. Sprinkle with 1 c Parmesan cheese.
Bake uncovered 45 mins.
We would love for you to follow us on Facebook!
Print



---