Panko Crusted Baked Tilapia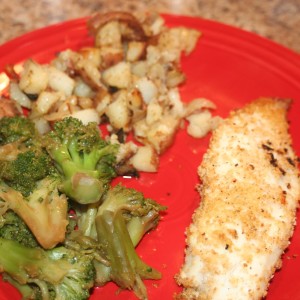 The amounts listed were enough to make three decent size pieces of tilapia.
Instructions
Preheat oven to temperature designed on package of fish (I used frozen). Put panko bread crumbs, house seasoning and Old Bowl Seasoning in a bowl. Melt the butter and add a pinch of garlic powder.
Dip the pieces of fish in the butter and make sure there is some on both sides of the filets. Dip tilapia in the bread crumb mixture next. Mine didn't stick really well because my tilapia was frozen and when it hit the butter it cooled the butter but the end result still tasted great. Since it wasn't sticking very well I put the fish in my baking dish and put some bread crumbs on the bottom and the top. I then squeezed half of a lemon over the tops of the filets. Bake for time given on fish package, turning halfway through.
Don't forget to follow us on Facebook!
Special thanks to our fellow bloggers who linked this recipe: Thrifty Handmade Days
Print



---