Cheesy Grits Wedges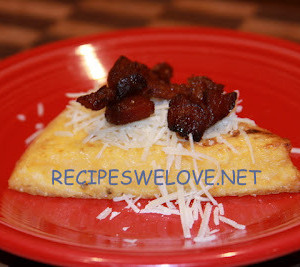 Fixed this for a brunch - it's easy and turned out really good! Can be fixed a day ahead. We, Amber and Ann Kelly made this and here is our take on it:
Prep Time : 5 minutes
Cook Time : 8 minutes
Instructions
In saucepan, we sauteed onions with butter and bacon grease until they are translucent. Add water, salt, garlic powder, mustard and a pinch of pepper to onions. and bring to a boil. Slowly stir grits and salt into boiling water. Reduce heat to medium-low, stirred until thickened. Add cheese and stir until cheese is melted and well blended.
Pour into 9 to 10 inch pie plate (sprayed with non stick spray) Cover & chill until firm. These can be made the day before.
Cut into slices, place on baking pan and broil until golden brown. This takes about 8 minutes.
After we toasted ours we added a little shredded cheese and bacon.
We would love for you to follow us on Facebook!
Special thanks to our fellow bloggers who linked up this recipe: Sumos Sweet Stuff
Print



---