Pineapple and Coconut Oil Salmon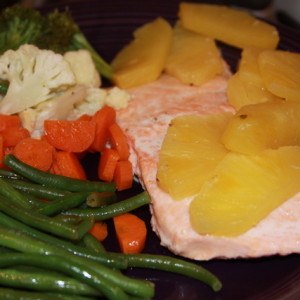 I LOVE to cook in foil packages on the grill like Here, or Here, or Here, but I had never tried cooking in parchment paper packages. So the other night I had salmon laid out and when I ran to the store that day I saw these bags and thought I would give it a try. And I am HOOKED. You may even get tired of hearing about parchment bags. So here is the first recipe, and it could not be easier.
I served with steamed veggies also in a parchment bag. The salmon was so tender and moist and the coconut oil and pineapple was a sweet treat. This will be on the menu again sooner rather than late.
Prep Time : 10 minutes
Cook Time : 17 minutes
Instructions
Print



---