Chicken and Potato Hash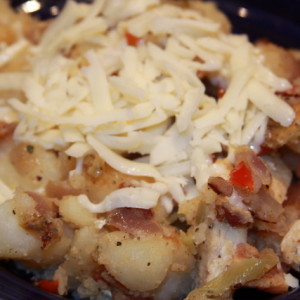 This is such an easy meal. I started making this when my son was small and I did not have much time or energy for cooking. I normally put these potatoes and chicken in the oven while we are eating dinner (to have for the next day) or while we are doing breakfast.
Instructions
Cook onions, and pepper in a little olive oil just until tender.
While those are cooking peel and dice potatoes, chicken, and bacon.
Add the bacon, potatoes, and chicken to the pot with some house seasoning (salt, pepper, and garlic).
Cook until it is warmed through and the potatoes begin to brown. Top with your cheese and your are ready to go.
Print



---