Cheesy Bacon and Asparagus Pasta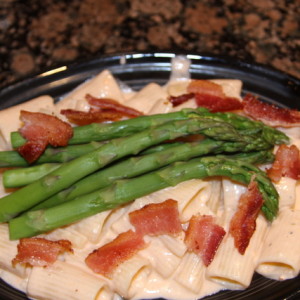 I had been wanting to make the Slow Cooker Cheese Dip but really did not have a use for it (party etc) so I thought I would try to use it for my dinner too, and it was really good. So this may not be a recipe you will try on any given day but the idea could be used with a different cheese sauce. But since we have a small family we often have leftovers, I actually cook so we will have leftovers, but I do try to use it in a different way the next day and this is an example of that.
Instructions
While you cook the bacon bring a pot of water to a boil and add asparagus and cook for about 3 minutes. Then remove asparagus from water, bring back to a boil and add pasta.
While Pasta cooks add the cheese dip, garlic, water, and house seasoning into another pan whisk while bringing to almost a boil.
Drain pasta and add to the cheese sauce. Top with asparagus and bacon. This will make 3 servings.
We would love for you to follow us on Facebook!
Special thanks to our fellow bloggers for linking up this recipe:
Print



---