Pizza Sauce (with extra veggies)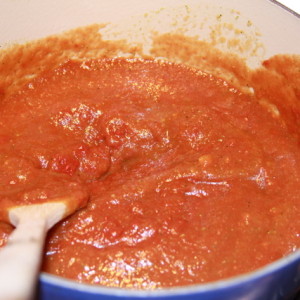 My son is on a Pizza sauce kick and I mean he wants it EVERYDAY! It can be on pizza, used as a dip, or just in a bowl by itself. So with that said I had to find a way to make my own. This summer when canning beginnings I need to work on a tomato pastes so I won't have to buy anything.
The great thing about making your own foods is that you KNOW what is in them, and that is very important to me. Now I wanted to make a bunch so it would last a while but if you were just making this for a pizza or two you will want to reduce by half.
Prep Time : 15 minutes
Cook Time : 30 minutes
Instructions
In the yellow bowl there are 3 frozen avocado cubs and 3 juiced spinach cubes ( I would have used fresh spinach but I was out.
I put all the veggies and part of the water in the blender till it looked like this. I know it looks gross but as soon as you add all the tomatoes it looks just like pizza sauce.
Add everything else to the veggie blend and cook for about 30 minutes.
And since I was wanting to be able to keep this on hands for my pizza crazy boy I thought I would freeze it in ice cubes and I can just pull out a few at a time. And I found these small bowls with lids at the dollar store they hold about 2 TBS so I can just add these to a lunch box etc.
Print



---