Deviled Eggs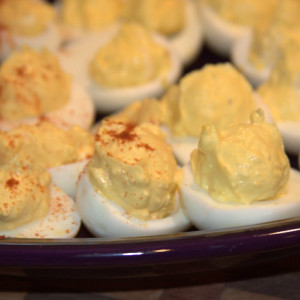 Yes I know, deviled eggs are SO Easy but I have had people ask me how to make so while I was fixing them the other day I thought I would snap a few pictures and do a little overview. My husband LOVES deviled eggs. So I often fix a bunch to have on hand for the weekend. He will even eat a couple for breakfast. And Since we are using doing yard work most of the weekend it is a quick snack with some protein. We also enjoy these when we are having salad for our meal.
Prep Time : 15 minutes
Cook Time : 23 minutes
Instructions
First Boil your eggs, you can do as many or as few as you would like. I put mine in the pan over with warm water and cook on high for 23 minutes from the time I put them on the heat.
Once they are done cooking and peeled, Slice in half put the yokes in a bowl and the whites in a separate bowl or plate.
Then I add my salt, pepper, and garlic and mash with a fork till all the big clumps are gone.
Then I add a splash of vinegar and mayo. I use egg yoke and mayo in about a 3:1 ratio with the yokes being the the larger. Stir till creamy, you may have to add a little more mayo. Once all mix taste add add salt, pepper, etc to your liking.
Then If you like Paprika on top sprinkle.
Print



---