Slow Cooker Spaghetti Sauce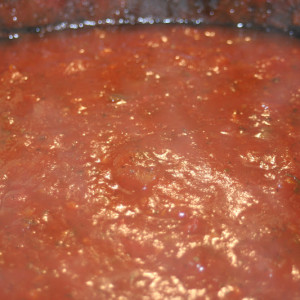 The amounts for seasoning are rough estimates because I tasted it throughout the day and added more as I  thought it needed something.
This was enough to make two baked spaghetti dishes! I will be making the sauce again really soon to freeze for nights when we are needing a quick meal. This is a picture of a double batch I made. Sorry it looks blurry, it was steams coming off of it!
Prep Time : 15 minutes
Cook Time : 8h 00 min
Instructions
Put the tomato sauce, diced tomatoes in the crockpot.
Dice onion, garlic, carrot and green pepper. Add to crockpot.
Add basil, italian seasoning, pepper, house seasoning, bay leaves, garlic powder and parsley.
Cook on low for 8 hours. Stir occasionally. You can add less of the seasonings to start and add more as you see fit. I will say after the 8 hours I thought it still had a really fresh taste to it but after it was refrigerated all night it was so good the next day.
I did brown two pounds of ground beef which I also seasoned with House Seasoning. I added this to the spaghetti sauce and just put it on warm the next day until I was ready to use it.
Print



---