Mexican Style Roast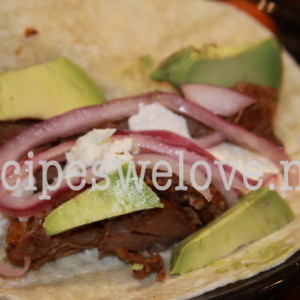 Mexican style roast is a Very easy meal and a twist on the traditional Sunday roast. This recipes is from one of our Fabulous followers, Tammy.
Ann Kelly made this to get pictures and It will be a regular dish. It SMELLED SO GOOD cooking, and tasted even better. This would be GREAT for a crowd. SO SO GOOD.
If you are making this for a large crowd you will want more veggies than this. I knew the veggies would not be great warmed up so I did not put that many in. (Ann Kelly)
Prep Time : 15 minutes
Cook Time : 8h 00 min
Instructions
Put a roast in the slow cooker and cover with my homemade, cooked salsa. Ann Kelly used here own canned salsa from last summer. Add a little water and some salt. Cook on high for 4 hours then add carrots and potatoes (salt and pepper them) and continue to cook another 2-4 hrs on low.
Serve in or with corn tortillas and yes...refried beans, sliced avocado, lime soaked onions or whatever. I usually put shredded roast in the corn tortilla and squeeze fresh lime over it.
We would love for you to follow us on Facebook!
Special thanks to our fellow bloggers who linked up this recipe:
Blessed With Grace, Nap-time Creations, Reasons to Skip the Housework, 33 Shades of Green, Toot Your Horn Tuesday, mom on timeout, Fireflies and Jellybeans, delightful order Mandy's Recipe Box
Print



---