Runny Stuff…. my FAVORITE strawberry jam… kinda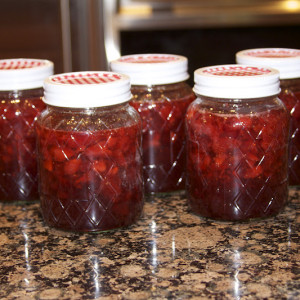 It is strawberry season and we have already picked berries twice. And with Strawberry season my kitchen is ready to start canning seasoning as well. Last summer we moved the first week of August and June and July seem to be a blur between preparing our house for sale and looking for a new house in a new state, so I did get some canning in but not all that I normally do. So I am looking forward to this summer.
We call this RUNNY STUFF because it is really really "runny" jam. But it is great for ice cream, waffles, and since I am not a big jam fan it is just right for my toast.
So once we got home from the strawberry batch off to Jam making we went. First we rises and capped the strawberries. You Don't need a lot for this yummy treat
Prep Time : 15 minutes
Cook Time : 35 minutes
Instructions
Put everything into a large pot and mash the berries while they get good and warm.
I cook the berry mixture just below a boil for about 30 minutes. Then I pour into my sterilized jars, add the lids and sit in a water bath for 5 mins. This recipe made 4 pints or would have filled 8-10 jelly jars.
If you have never canned food at home before check out THIS POST on some tips on getting started!
We would love for you to follow us on Facebook!
Special thanks to our fellow bloggers who linked up this recipe: My Favorite Finds, The Gunny Sack
Print



---