Slow Cooker Chicken Stock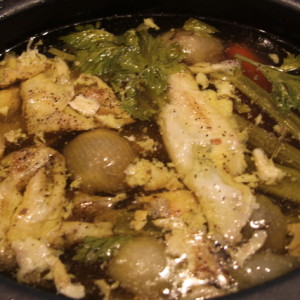 I try to  make Chicken Stock as much as possible so when I cook chicken that will lend its self to making stock I do so and freeze so I don't have to buy it. This does take a few extra minutes but it saves me money and more importantly I know what my family is eating.
Prep Time : 15 minutes
Cook Time : 1h 30 min
Instructions
So the other day when I made Whole Chicken In the Slow Cooker I wanted to also make stock. So I left the juice that was already in the slow cooker from cooking the chicken. Then I added a blub of garlic a couple carrots, an onion cut in half. and some celery. Then I added the skin and bones from the chicken (and wings since no one eats them at my house) back in as well. Then I filled it up with water and cooked on high for about 1 1/2 hours.
Once everything looks like this it is time to drain and freeze.
I strain over a large bowl then I put it in the fridge to cool down. Once it is cool I put 4 cups at a time in gallon freezer bags (that is the same amount as the boxes you buy at the store) Then I freeze them laying flat in the freezer. Then once frozen I can stand them up  to take up less space in the freezer.
Thanks to our fellow bloggers for linking up with this post: I am addicted to Recipes, Its so Very Cheri, Sew Many Ways, Petite Hermine, The Southern Institute, Creating Really Some Freethings, This Chick Cooks, Real Food Allergy Free
Print



---