Bay Scallops with Summer Veggies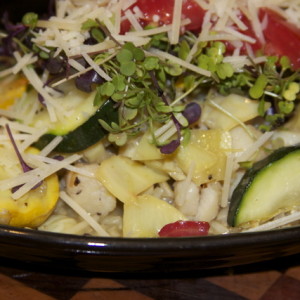 This is one of the BEST meals I have made in a  long time and it took all of 25 minutes from start to finish.  When I started out I really did not have a plan in mind just some garden veggies that needed to be used up and some bay scallops that I thawed from the freezer. This would serve 2.
Prep Time : 10 minutes
Cook Time : 15 minutes
Instructions
I sautéed the squash and zucchini in a hot pan with olive oil, onion, and salt, pepper, and garlic till just warmed through. Then I removed them from the pan.
To the same pan I added about 2 TBS of butter, scallops, and a bit more seasonings. The Scallops cooked in about 4 mins.
I had some left over brown rice so I put the scallops over a think layer of brown rice.
Then in the pan I added the lemon juice, 2 TBS butter, and a splash of white wine and 1/2 cup of diced artichoke hearts. And cooked till it began to bubble
Then I added the squash, and sauce over the scallops and rice and topped with the micro greens, tomatoes, and cheese.
This post is linked up at: Create With Joy, C.R.A.F.T., Serendipity and Spice
Print



---