Canning Jalapeno Rings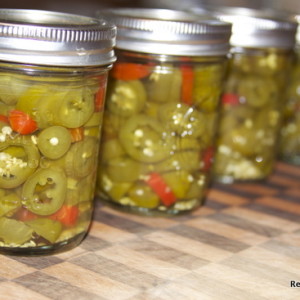 I use a lot of jarred jalapeno rings so I thought this year I would make my own. This is a new venture for me and it was very simple .
Prep Time : 15 minutes
Cook Time : 24h 00 min
Instructions
Wash and slice peppers WEARING GLOVES, leave the seed in the pepper. Then Blanch jalapeno rings in a large pot of boiling water for 10 minutes. Drain peppers then add vinegar, water, salt, and sugar to the pan and bring to a boil.
Fill HOT jars with the pepper rings then fill the jars with the vinegar mixture leaving a inch head space in your jar. Make sure the top of the jar is clean then top with your lid and ring.
Process in a water bath for 40 mins or in a pressure canner with 10 pounds of pressure for 10 minutes. Remove from Pot and let the jars cool for 24 hours before moving.
Print



---