Beef Quesadilla… who needs to go out for good mexican?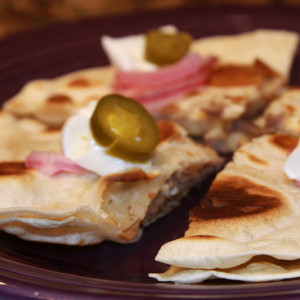 We get part of a beef from my father every year so I am often looking for beef recipes and since my Husband does not like roast I have to sneak the roast meat into other dishes. So this is what we used it for one evening.
Prep Time : 10 minutes
Cook Time : 15 minutes
Instructions
I cook LOTS of refried beans and freeze in plastic bags (2 cups per bag) and I often freeze part of this Mexican Roast to have for nachos or quesadillas so this can be a very fast meal to throw together if the cooking is already done.
Once the onions are ready and the roast is ready warm your tortilla if you are using uncooked tortillas like me.
Then on the tortilla place a layer of  cheese, beans, and roast. Then Top with another tortilla and warm in a pan iron a griddle until the cheese is nice and melted.
Once both sides are nice and toasty I cut the quesadilla in froths with a pizza cutter. Then I top with a dollop of sour cream, a slice of jalapeno and some Limed Soaked Onions.
Print



---