Canning Diced Tomatoes — Water Bath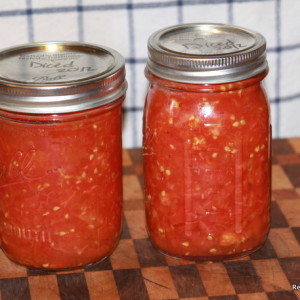 Diced tomatoes are great for soups, stews, sauces etc. They take more time to prep than Crushed or whole tomatoes but I use A LOT of diced tomatoes in dishes like Tomato and Corn Rice or Fresh Veggie Soup.
Prep Time : 15 minutes
Cook Time : 45 minutes
Instructions
Once you have Peeled tomatoes like this, core and get what seeds and juice you can from the tomatoes Then chop with a large knife chopped to the constancy you like. I then place them in a strainer so any extra juice an drain out while I finish peeling and dicing. When I dice tomatoes I Put a cutting board inside my cookie sheet so the juice does not end up all over me, the counter, and the floor.
While you are cutting up your tomatoes heat your jars and lids along with a pot of water.
In a Hot jar add 1 Tablespoon of bottled lemon juice or 1/4 teaspoon of citric acid and 1/2 teaspoon of salt for Pints, and 2 Tablespoons of Lemon juice or 1/2 teaspoon citric acid and 1 teaspoon of salt for quarts. Then add you tomatoes leaving 1/2 inch head space, and fill in with the hot water. Remove any air bubbles. Wipe Rim clean and place lids on the jars.
Process in water bath for 35 for pints and 45 minutes for quarts. Or process in a pressure canner for 10 minutes at 10 pounds of pressure.
Print



---