Easy Baked Lamb Chops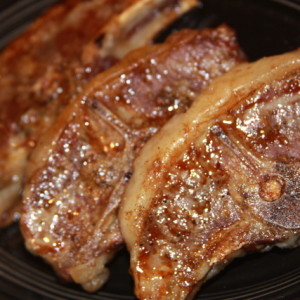 We get free lamb meat at my house from my Father's farm which means we eat lamb... My son LOVES it but my husband and I are not as big of fans. So I normally grill some lamb when I grill burgers or steak for my son to eat and that was the plan with this meal but My husband ended up going out of town for work so I could not justify not eating it myself.... and I REALLY ENJOYED IT... maybe I just like it baked better than grilled.
Prep Time : 15 minutes
Cook Time : 30 minutes
Instructions
I had a package of 4 "double" lamb chops, I place them in a baking dish and drizzled a little olive oil over them and added a good amount of House Seasoning (salt, pepper, & garlic).
Then I added some Soy Sauce (Gluten Free) and baked uncovered for about 30 minutes at 350 degrees. We both really enjoyed  these and both went back for seconds.
Print



---