Freezing Leftover Mashed Potatoes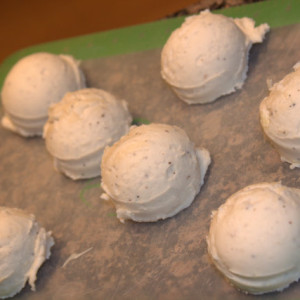 This is a great idea, and so very easy. It is one of those things I can't believe I have not done before now. I have only tried this with mashed potatoes that have cream cheese in them, since I know they warm up better than mashed potatoes without it.
Prep Time : 5 minutes
Cook Time : 10 minutes
Ingredients
Instructions
When you have leftover mashed potatoes or if you want to just make extra, this is great to have single serving sizes ready to go, or to make potato cakes, or mashed potato soup, you have them ready to go.
Once you have COLD mashed potatoes, use a ice cream scoop and make mounds of potatoes and place on a cookie sheet, I used a cutting mat that fits well in my freezer. Then place the sheet in the freezer. Once they are frozen solid  place the potatoes in a freezer bag until you are ready to use them.
To thaw you can thaw in the fridge for a day, or in the microwave on defrost for about 40 seconds. They tasted just like they do before frozen. To make mashed potato soup I just throw a few servings of potatoes in a pot with some milk and warm slowly. SO SO easy.
Print



---