Gifts from the Kitchen (idea #5) Birdseed Wreath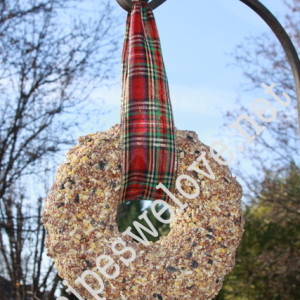 When I came across this idea at The Mother Huddle I knew that my nature loving, bird watching son would LOVE LOVE LOVE to make them.
I spent $17 and made 6 of these... not too bad, that was buying everything except the ribbon.
And they make a great gift too, my son was really excited to make one of these for his Grandpa, and the neighbor that he "bird watches" with. So these are great gifts and so so easy to make, we really made several of these in less than 30 minutes and that was with "help" from my 6 year old.
Prep Time : 30 minutes
Cook Time : 24h 00 min
Instructions
In a Large bowl  dissolve the gelatin in the warm water stirring until it is dissolved.
Whisk flour and corn syrup into the gelatin mixture until a paste is made and most of the lumps are whisked out.
Add bird seeds and mix well.
Spray the bundt pan or what ever you are using as a mold and press the seeds into the mold until it is good and firm.
The Mother Huddle left theirs in the pan for 24 hours then flipped  the wreath out on a plate but I turned mine out on the plate in about 10 minutes, so I could use the pan to make more wreaths. Then I let it dry for about 36 hours.
Place a ribbon through the wreath and hang.
We also pressed some of the mixture into cookie cutters, using the straw to make a hole for hanging.
Then once they were dry we added ribbon  for ornaments, or to add to packages, and to give my son some "gifts" since he thinks everyone that walks into our house needs a gift from him.
Print



---