Oreo Pie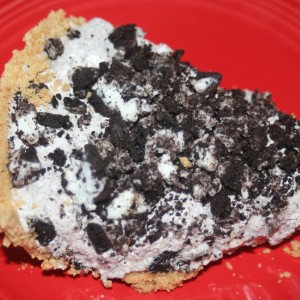 After my mother in law made the amazing Butterfinger Pie I was determined to come up with something like it that we could eat at home around the kids. We DO NOT eat anything with nuts at our house so the Butterfingers are a no go. I decided to try an Oreo pie and it was really good.
Prep Time : 10 minutes
Cook Time : 15 minutes
Ingredients
Instructions
Let the cream cheese soften some. While it is softening crunch up the Oreos. Then mix the cool whip, cream cheese and some of the oreo crumbles.
Be sure to save some to sprinkle on top.
Print



---