Succotash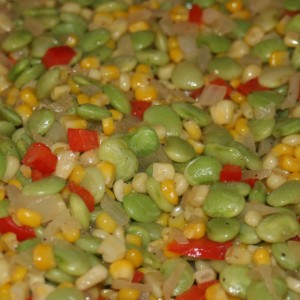 I got this recipe from my mother in law and it is delicious! I would have never fixed it if I had just read the recipe first.
Prep Time : 10 minutes
Cook Time : 25 minutes
Instructions
In skillet, heat oil over medium. Add onion, bell pepper, salt and pepper.
Cook 4-5 minutes or until veggies are tender. Add lima beans, butter and water. Cook for 5 minutes, stirring often.
Then add corn. Cook another 10-12 minutes, stirring often.
Print



---