Easy "Fancy Potatoes"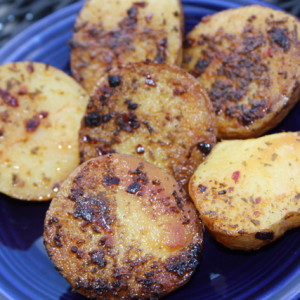 Several years ago I made these potatoes when my father came to visit and he said they looked fancy, but really they could not be any easier.
Prep Time : 10 minutes
Cook Time : 40 minutes
Ingredients
Instructions
In a Baking dish put a thin layer of olive oil  with a good layer of your favorite seasoning, Originally I used seasoning salt but I switch it up. Just make sure you put a SOLID layer of the seasoning.
Next slice your potatoes in half (I prefer Yukon Gold) and place them flesh side down and bake at 350 degrees for 30-40 minutes, they are so full of favor and so tender.
Print



---